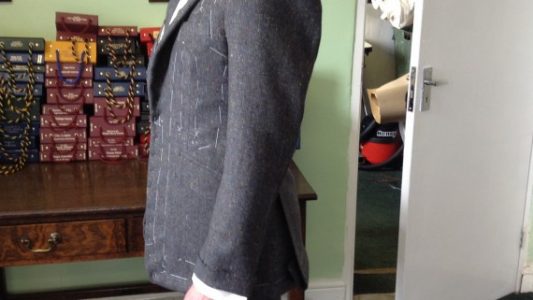 6 Mar, 2016
The Yorkshire Tailor
The Yorkshire Tailor, It's been a while, in fact, the last blog post I did was May 2015. I am lucky to have been so busy, and it looks like it's going to be no different from last year. You may be wondering why this post is called The Yorkshire Tailor, well that happens to be my Twitter handle. So that's that out-of-the-way.
Real Tailoring
I have never paid in publications to advertise my tailoring, to be totally honest I don't need to. I'm a genuine handcrafted bespoke tailor and my services are constantly in demand. I rarely fall below a three-month waiting list for my product. My clients and most people who call into my workroom understand what my product is. Real bespoke tailoring, cut and fully made on site, assisted by my small team.
Do a little research
Lots of people may claim to do the same, but the reality and truth is far different. You are not buying a shopping experience from me, you're buying into the art, craft and heritage of 40 years as a bespoke tailor. The picture below shows a client in having a first fitting for his three-piece suit.
That being said, over the years, I have had a fair amount of free publicity from magazines and organisations that want to talk to a real tailor. And I have been meaning to start a media section, but I don't like smoke blowing up my backside it's just not my thing.
I do pride myself on treating everyone the same, whether you're a billionaire, yes, I have made for a couple, or merely calling in for one suit. The Yorkshire Tailor was a name given to me by the press.
Over the years been featured in various local papers and tv. Last year BBC Capital did a good article, the link is here
http://www.bbc.com/capital/story/20150206-how-to-buy-a-custom-suit The picture that forms the background of this article as it loads, is actually a coat that is was in my workroom and ready for a first fitting. The coat was sitting on my tailors dummy. I intend to start compiling more of these media articles which I shall then put onto my website.
The Yorkshire Tailor
In the meantime, if you're on the lookout for a genuine bespoke tailor to make your first real bespoke suit, or your next bespoke suit, feel free to drop me a line. des@dmerrion.com 07871877061.