Off The Cuff Bespoke Tailors Leeds Yorkshire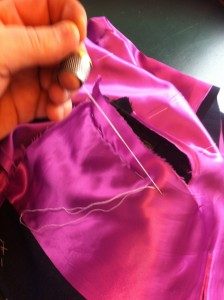 3 May, 2014
Bespoke Tailors
Well lets not beat around the bush, REAL bespoke tailors are about as rare as the old proverbial hens teeth these days.
So with that said, I hope that this blog documenting my daily goings on will hopefully help you to distinguish between the real tailors and the salesmen that just talk bollocks, pretend to be a tailor and sell you some crappy suit.
The picture to the left shows the right front section of a bespoke coat that I am working on right now. You can clearly see the canvas running all the way through the shoulder and the front. The hand pad stitching I have done to make this canvas is clearly seen on the chest area on the white dommette.
The canvas has been cut and the pocket has been placed over the canvas. I have then again hand stitched the pocket bag to the canvas to secure it in place. The front needs re-cutting and then I will be hand padding ( stitching ) the lapels. Bespoke tailoring is about time, and lots of it, that is one of the major costs of what you are paying for.
The picture to the right shows me hand basting one of the sleeves into a clients coat. Putting sleeves into a coat is one of the most difficult operations, getting the hang right AND making sure the sleeve looks and drapes beautifully is an art. It took me many, many years to truly insert sleeves that I really felt happy with. Many tailors struggle with inserting sleeves, and the ready to wear manufacturers turn out sleeves most of which are an absolute abortion, my father would turn in his bleeding' grave if I turned out bad sleeves.
The picture to the left shows the same coat I am working on to the right, a lightweight fresco cloth, navy blue from J+J Minnis in Huddersfield. You can see the sleeve head has got a rope, or pronounced round to the top portion of the sleeve, I ALWAYS make my sleeves with a fairly strong rope to the sleeve head. In my eyes it is one of the signs of a true craftsman made piece because to execute a clean, defined rope sleeve head is not easy. Off the peg suits rarely have this type of sleeve head finish because it's too difficult for factories to produce and press when the coat is finished, and if it does have a rope it's usually a poor relative of the real McCoy.
The picture to the right shows me hand basting the lining, a fuscia satin colour, around the armhole of the coat. When I have basted the lining I will then pare off the excess lining around the armhole. Then this coat will be ready for the sleeve lining to be brought up over the white baste cotton and delicately and precisely hand stitched in place finishing the sleeves. So if I can assist you with any tailoring requirements, then please drop me a line I would be delighted to hear from you. desmerrion.com