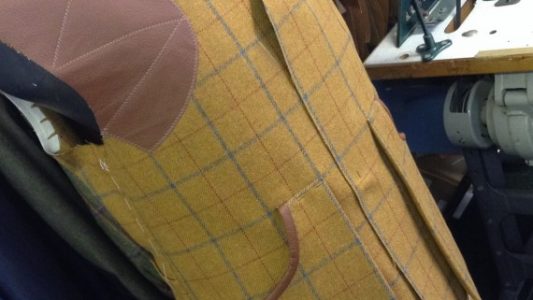 16 Nov, 2014
Shooting Suits
And other bespoke made country garments. I have recently made a bespoke shooting waistcoat, two pairs of breeks and two matching flat caps for a client. The first picture below shows my clients waistcoat laid on my cutting table after I had conducted the second fitting.
The cloth is a heavyweight 21oz baby from the John G Hardy Alsport bunch. This cloth is for the serious outdoorsman and certainly not for the faint hearted. You can see the lovely orange hue that this cloth has. Combined with a blue over check it really is a stunning cloth.
The next picture below shows the shooting waistcoat on my tailors dummy. My client had a rough idea of what he would like fit and length wise, but wasn't really too sure regarding the actual style features. I have made many shooting suits and other sporting garments during my 31 years as a bespoke tailor and I have a lot of experience in making outdoor country wear. It wasn't too much of a challenge for me to come up with something that would work well for my client.
We both agreed on large front bellows pockets, each had to accommodate and withstand the weight of carrying at least 25 cartridges. The pocket tops are piped with leather at the top edges as an added style feature and to also make the pocket very durable. Two leather shooting patches were also added onto the shoulders. These leather patches are not simply 'laid on' like the cheap ones you normally see and buy, the armhole will be eventually seamed around with the leather giving a very strong, clean, distinct look.
This waistcoat now resides with my client finished, and I zig-zag stitched both patches the same at his request.
Remember, bespoke tailoring is all about giving the best quality product to the client and not accepting the easy cheap and cheerful route too often given by the RTW industry. What I make is top quality real bespoke pieces, unlike other Leeds establishments I could mention, I will never compromise on quality or fit, end of.
The picture below shows the back style details of the waistcoat. I decided to add two small side adjusters, to enable my client to take in or let out the waist. And I also added a half belt to the back portion of the waistcoat. I carefully and precisely matched the belt to the pattern of the cloth so that it almost blends in seamlessly.
Shooting Suits
In a rush, I forgot to photograph the inside of this shooting waistcoat.
I will post pictures and details of the shooting breeks that accompanied this waistcoat in a later post. I greatly enjoy making tailored shooting suits. So if you have any tailoring requirements, be it for shooting suits or lounge suits. I would love to hear from you. Why don't you drop me an email des@dmerrion.com and get the ball rolling.