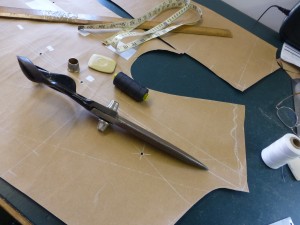 22 Jul, 2014
Savile Row Tailors
You really need to look deep past the location and the smart, nay very smart windows of some of these newer 'Row' establishments. If you have the money to pay the high rents then in reality it's not beyond the realms of the sensible mind that anyone can rent premises and claim the status and bragging rights of being a Savile Row tailors.
There are a few tailoring companies that are based on Savile Row, and without naming them here, if you walked through their door and ordered a 'bespoke' suit, your order would be rushed straight out to Bucharest in Romania and your so-called 'bespoke' suit would never see a single tailors hands. Lots of automated sewing machines and top of the line pressing equipment yes, but not a single real tailor.
If a tailor has a Savile Row address on his website that doesn't necessarily make them a Savile Row tailors. Many of the cloth merchants have fitting rooms based on Savile Row, and these rooms are available to use by any company that orders and uses the merchants cloth bunches. The merchants that actually occupy and rent the space on Savile Row are also quite happy for companies and tailors to also advertise this Savile Row address on letter heads, and websites as if it was actualy them that are physically located on Savile Row.
Traditional Savile Row Tailors
However, that said there are still quite a few really decent tailors located on Savile Row. The only downside I can see is that boy do you have to pay through the nose for them. Someone has to cover the expensive overheads, and that my friend is you. So please be careful when choosing your Savile Row tailors, the craft is really becoming a minefield for the unwary punter.