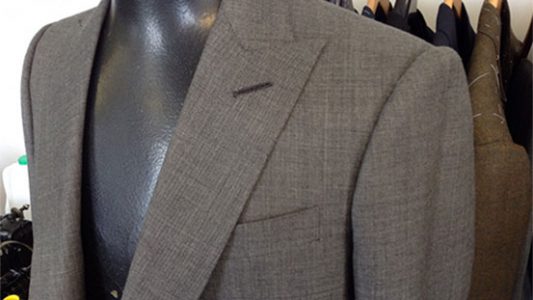 17 May, 2015
Classic Grey Suit
I have recently made four suits for a client that is going on holiday, and whilst he is on holiday he will also be visiting quite a few upmarket places, including a very expensive stint staying on the Orient Express with his wife.
This particular client is well entrenched with me and my tailoring after being a client for a few years now, so we know each other very well which makes both our jobs so much easier. One of the suits that I made for him was a classic three piece grey suit. The cloth is from Harrison's Classic bunch and is unusually heavy for my client as it comes in at 10-11oz. Personally I don't think 10-11oz is particularly heavy, but my client very rarely usually steps out much beyond 9 oz. But, with a bit of guidance and a slight recommendation from myself, I told him he wouldn't go far wrong having this weight of cloth, and style of suit in his wardrobe collection.
The picture below shows my clients suit marked in. I have partly cut out some of his suit. My client has got his own very distinct and traditional view on bespoke suits, but he does like to take guidance from me now and again. The style choice of this particular suit was left entirely to me. I settled on a three piece suit for him, a single breasted coat, one button front, side vents, slanted pockets and a peaked lapel. The waistcoat is fairly straight forward being a single breasted offering with two lower welt pockets. The trousers are a single pleat trouser, slant side pockets and a single hip pocket.
The picture below shows my clients suit cut out. You can also see in this picture the canvasses that I have also cut out for the coat.
The next picture shows the waistcoat fully fitted up and ready for a forward fitting.