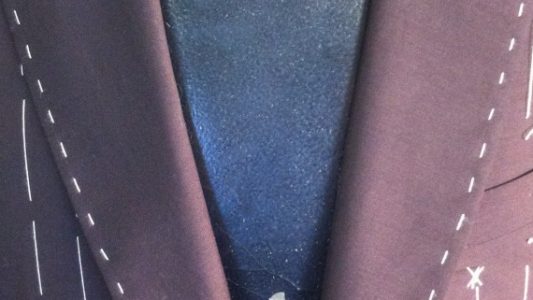 29 Dec, 2014
Mohair Suits
The weather has been so mild these past few months. And I have barely been able to get my clients to look past the lightweight and mid-weight cloth bunches. A cloth that I really do like and enjoy to make is mohair. However, it has to be mohair with at least 60% kid for its composition, not the 30% kid composition level. There is a difference between the quality of the two, and there is also a big difference in the price.
Cloth
The picture below shows a portion of a clients bespoke mohair coat. This cloth is from Harrison's bunches that I carry and is 40% Super 100's wool with 60% kid mohair and is a lovely blue colour that is extremely versatile. This exact cloth has been very popular this year and I have probably made at least four coats for clients in this particular colour. This particular blue is a different cloth every day of the year and is radiant when the sunlight hits it.
Mohair Suits
Making mohair suits with at least 60% kid content is not easy. The cloth is very resilient to steam and it is also very difficult to stretch and shrink this cloth compared to say an 11oz all wool worsted cloth. Many tailors, and most factories won't even touch it. It certainly takes a deft hand to make it to any kind of a decent standard.
The next picture below shows another kid mohair coat I have made for a client. This cloth is a lovely chocolate-brown colour and is finished with a brown velvet top collar. The velvet is from Scabal. This coat has a classic one button front complimented with beautiful real horn buttons on the front and at the cuff. The pockets are slanted, and this coat was 1970's inspired so has a good belly to the lapel and a fish mouth lapel.
The next picture shows the true colour of the chocolate-brown mohair cloth of the coat above. This picture also shows one of the lapels before I baste it onto the coat to make the fronts, it has a 'snowflake' pattern kimono silk through the body of the coat for a truly individual touch. You can also see that I have made one of the inside breast pockets for the coat. This pocket is complimented with bartacks finished with white stitching. These are a style detail to just individualise the coat even more, that's the beauty of bespoke you should be getting exactly what you want.
The picture below shows a closer shot of the fish mouth lapel.
The picture below shows the brown mohair coat at the forward fitting stage, waiting for the sleeves to be hand basted in.