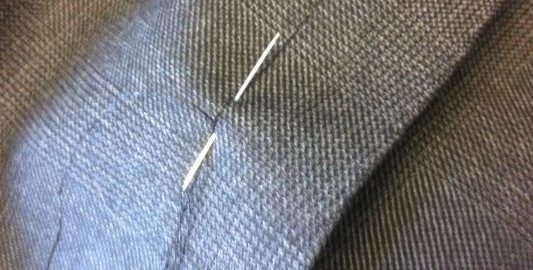 18 Jan, 2015
Grey Suit
A grey suit is an absolute staple for any man who is considering building a wardrobe. The trend nowadays with the off the peg companies, and the high-end fashion houses is for them to market and sell bright, garish coloured suits to the mass herds that file trough their doors. These 'individuals' are in fact about as individual as the millions of wildebeest that migrate yearly across the vast savannah plains of Africa.
I have a picture below of a beautiful classic grey all wool English cloth, woven in Yorkshire of course, and I have feathered the cloths so that this classic grey is laid on top of a striped morning suit trouser cloth for a contrast.
The grey suit is such a versatile colour for a man, I often think that it quite wrongly plays second fiddle to the much-lauded blue suit. I personally feel that the grey suit is far superior to the blue suit, especially for business, in so much that it often shows that a man has given some thought to his actual attire and appearance and doesn't want to look the same as everyone else at the office.
Grey Suit
So which grey to go for ? Well, if you are lucky enough to be able to visit the bespoke, or semi-bespoke options then personally I would always steer a client towards either a subtle herringbone cloth design, a nice pick and pick cloth, or a nail head. I have never been a strong advocate of simple 'solid' cloths, yes they have a place, but if you are paying for a suit to be made then I believe the cloth should at least have some character.
Plain solids are easy to find off the peg, but a tailored suit that you may require for best or special occasions should have that little something else that differentiates it from a run of the mill ready to wear number. The picture below shows the breast welt pocket of a clients coat that I am hand sewing. This particular cloth is a very understated, subtle 10oz grey glen check all wool from Holland and Sherry cloth merchants.
Grey Suit
The grey suit is in my opinion effortless to wear and far easier than its blue cousin. The colour grey allows the wearer to exude confidence and sophistication without looking like he has just stepped out of a boardroom meeting. The problem with blue is it is just TOO damn formal.
Two of the pictures at the bottom are showing me, quick shield your eyes, wearing my soft grey stripe suit that I have made for myself. This cloth is a 13oz all wool classic from Dugdales in Huddersfield, I absolutely love this cloth and this suit. It's a three-piece suit, I am not wearing my waistcoat in this picture.
The reason I love this suit and this particular striped grey suit so much is because of its easy ability to mask a lot of my bulk. I am around 5'9″ but I dress out at around 16st 10lbs, so I am no shrinking violet. I was talking to a friend when the pictures were taken so my mouth seems a bit odd, but then again it could just be my mouth, I am after all an ugly bugger.