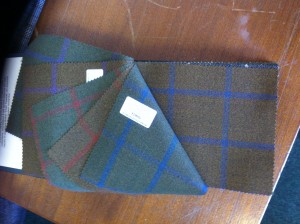 24 Aug, 2014
Checked Tweed Suit / Checked Tweed Suit Cloth
I recently made a checked tweed suit, in fact a three-piece suit for a clients wedding. The picture below shows the coat on my tailors dummy in the workroom.
Oddly enough, I had two clients orders on the go in the exact same cloth. This coat in the picture, and the suit, is my made to measure option and not full bespoke. But I hope you agree, and considering this coat is not yet fully pressed off, it doesn't look half bad even if I say so myself, but that's the beauty of ordering a suit from an actual sewing tailor, you still get a tailor-made product….
the next picture shows a new bunch just in from of my cloth merchants. The cloths are tweed patterns per-se but are actually woven in normal worsted weight cloth so are perfect for town wear. So if you need, or simply fancy treating yourself to a great checked tweed suit, coat or trousers give me a ring for a friendly chat. You can contact me by email at des@dmerrion.com or telephone me direct on 07871877061 to discuss your tailoring requirements.