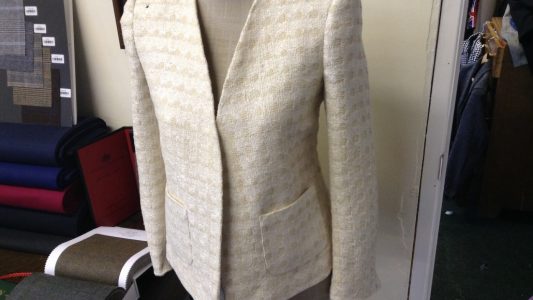 17 Sep, 2014
Chanel Jacket
I am making a Chanel jacket for a lady client which is quite refreshing. Most of the time my commissions are from male clients, but over the past few weeks I have been working on this Chanel inspired jacket
Coco Chanel was an inspiration to a whole generation of designers and tailors all over the world, and still is today. Her Little Black Jacket is recognised as one of the great female style innovations of the 20th century. You would have had to have been living in a cave if you don't know what I am on about….
We have taken some elements from the original Chanel jacket, as in it's a fairly simple silhouette, but my client and I have added a few individual elements to personalise this commission. The front is a cardigan style front, the sleeves have a small vent on the cuff, the fit is more precise and not the 'boxy' look of the original, and finally the sleeves have a very strong rope. Note, I don't stage any pictures of my work, all photographs are taken as is warts and all. I leave the staging for lesser tailors.
The picture above shows the jacket on my lady's dummy. The jacket is now ready for my clients last fitting with it.
The picture above is a closer shot of the cloth, which has come from the very same supplier that Coco Chanel actually bought her cloth from for her classic Little Black Jackets.
The above picture shows the Japanese Kimono silk lining we have put inside the coat to compliment the boucle style cloth.
The above picture shows the back of the coat. It's well fitted into the waist, and you can see we have also added a small centre vent for style reasons.