Off The Cuff Bespoke Tailors Yorkshire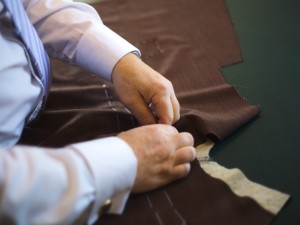 31 Aug, 2014
Bespoke Tailors Yorkshire
I have just got an apprentice that has come over from Sweden to work with me in my workroom for a couple of months before he returns back to college in Sweden.
It turns out that Olle is also a bit of a dab hand with his camera. So, he took a few pictures of me whilst I was sewing and explaining to him how I make my bespoke coats.
The picture he has taken below shows me hand tacking the breast welt of a clients bespoke coat before the canvas is inserted.
This next picture shows me starting to hand baste the canvas onto the cloth which is the mainstay of the whole garment. Every single one of my bespoke canvasses are made by hand, by me in my workroom. I only use real horse hair canvas and personally place hundreds of hand stitches to imbue permanent shape into the canvas coat chest.
The last picture below is a close up shot of my bunch of Ffyfes basting the canvas onto the coat front. All in all, I think these are pretty decent pictures Olle has taken representing the craft of bespoke tailoring at its best.
It is always really difficult for me to get 'doing' pictures of myself working, so I really do appreciate it when someone with a bit of nouse starts taking a few pictures of me. Plus, I like to see my bald head….ahem, ok well maybe not !
So if you are in the market for a tailored garment I would love to meet you and have an informal natter over a cup of tea. You can contact me to discuss your tailoring requirements. des@dmerrion.com or 07871877061. I make no bones about it, my tailoring is 100% REAL bespoke tailoring and is the finest available in Yorkshire.