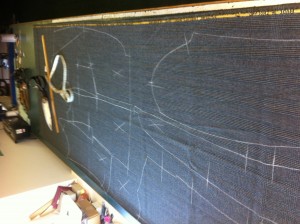 20 Aug, 2014
Bespoke Coats
Bespoke coat, made to measure coat, the picture below shows a lovely complex blue/grey twist cloth. This will be a stand alone coat/jacket (whichever terminology you prefer)
Bespoke Coats Leeds
The picture below shows the cloth. This is a vintage length of cloth that I have had for a long time, I will be the lucky recipient on this occasion when it is finished and completed ! You can see the lovely colours that the cloth contains, and as such it will be very easy for me to match shirts and accessories to this complex coloured cloth. The actual colour in the flesh is rather vibrant in the sun and bright lights.
Made To Measure Coat
This next picture below shows my coat marked in and ready to cut out. I sneaked this in one evening before I finished work. If you are wondering, it's still sat cut out under my cutting table without having a single stitch placed in it yet……what's the old saying about the cobblers children ?
This next picture shows a different angle of my coat/jacket lay prior to cutting. You can see all the relevant cloth pieces that are required to make my coat. I still haven't decided on a lining colour yet, but I will certainly be adding a colourful one. I will add future new blog entries with pictures and posts documenting the fitting and making of this coat as it progresses.
Contact me for an informal chat to discuss your tailoring requirements, or if you are requiring a superbly tailored bespoke coat or made to measure coat. 07871877061, or email me at des@dmerrion.com