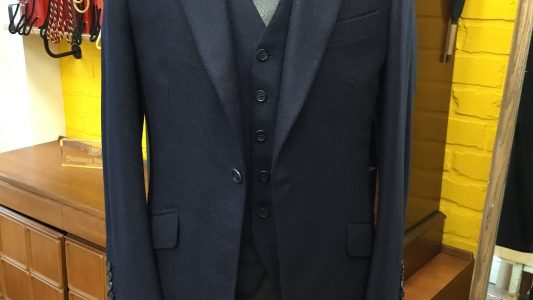 11 Aug, 2018
Choosing who to commission your tailored suit from should be given very careful thought. The taking of an order for a tailored suit is something that goes beyond the simple recording of measurements and particulars, though these are important enough in themselves. The psychology of business really resolves itself into a capacity for putting oneself into the customer's position. A study and observance of customers' personalities and the suitability of particular materials to particular people are as necessary to the successful bespoke tailor as his knowledge of actual cutting and fitting.
Today, it is too often the case that many so called 'bespoke tailors' are, in truth, nothing more than salesmen selling cloth to customers with no other thought than that of making a sale. The cloth may not be one that the customer really likes ; but he/she may be persuaded to have a tailored suit made from it, cut in a style that doesn't suit or fit the actual figure. Results are not favourable. The customer never likes the suit, the tailor has to deal with fads and grumbles, and the firm may lose future business. There are also far too many tailors in the world who do not half know their trade.
The type of customer will determine, to a large extent, the style of garment. In making suggestions on this topic it will be well to bear in mind that striped materials tend to give height to a figure, whilst checks are inclined to make the wearer look broader. Neither a stout nor a thin figure looks well-dressed in clothes that are cut too closely. The tendency at the present time to a closer style of cut is a great disadvantage, for it is much simpler to conceal defects in a figure when it is dressed in relatively looser fitting clothes.
All details of style, pockets, buttons, and other items should be gone into very carefully with the customer at the time he/she gives the order. The client may make requests that are not altogether practical, or ask for certain things that will present difficulty during making-up. It's crucial to ensure you're commissioning a tailor that can endeavour to explain why the customer should not insist on these things, and to suggest other features which can be adopted without difficulty. It is so much a matter of psychology..
All customers that enter into my tailoring shop are made to feel at ease and welcomed, without effusion, but with courtesy. You're given the time to consider your requirements, and hopefully given the impression that your order is valued and your satisfaction desired. It is my policy to convey to my customers that I'm personally interested in the job of cutting and making your clothes. Bespoke tailoring is a very personal business. I'm not engaged merely to sell goods, but also to sell service, and to do this successfully I'm able to discuss techniques of the trade gained from my 35 years of first hand knowledge.