Off The Cuff Made To Measure Suits Leeds
16 May, 2014
Made to measure suits Leeds ? But what will you actually be getting ? Are you getting a REAL tailor-made suit ? Or are you getting something else that is sub-standard ? Unfortunately, it's usually the latter. Do not spend any money until you have read this article right here :- How Honest Is Your Tailor ?
A suit from a 'tailors' in York sold as bespoke. This suit was actually made in Ossett by Carl Stuart, who are a trade making factory that supply LOTS of U.K. 'tailors'… and I think that you'll agree, it's a complete pile of tosh.
I have been in the tailoring trade, wholesale and bespoke for all of my working career.
But I actually have a very clear recollection of the trade as a boy aged about 6 years with my father. So the first thing I will say is that I have heritage, and lots of it.
Made to measure suits Leeds
The other aspect is that over those years I have been a trade coat maker, and sometimes trouser maker, for LOTS and I mean LOTS of tailors up and down the UK that outsource their work.
( I am not going to start spilling the beans and naming names, but lets just say some good and some bad along with some very well established names ) so I know who is actually cutting, making or farming it out.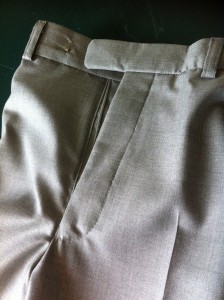 Yorkshire that have some kind of a workroom, and very convincing it may appear to be to the un-trained eye, BUT take a closer look, ask the right questions and you will find out all is not as it seems.
"Hello !" "Hello !" " Wake up and smell the coffee !" Tailored suits are not made in a factory ! They are made by a …… TAILOR !
You would be better off going to Marks and Sparks.
Some of these 'tailor made' suits have been as close to a tailors hands as I have to Scarlett Johansson.
Before you part with any money on a made to measure suit Leeds, take a GOOD look at the pictures in this article. Ask yourself, would any self-respecting time served tailor actually turn out work of this standard and put his name to work like this ?
DO YOUR RESEARCH and use a real tailor. I am just a dedicated passionate tailor trying to preserve my craft. Don't fall prey to the pretend tailors, there are a lot out there my friend. Especially when you're looking for made to measure suits Leeds.