About UsThe Beginning
The Beginning
My late Father Terry wasn't a tailor, he was an engineer, a sewing machine engineer, and a really good one. He eventually became the chief engineer for the world's largest merchant tailor, Montague Burtons'.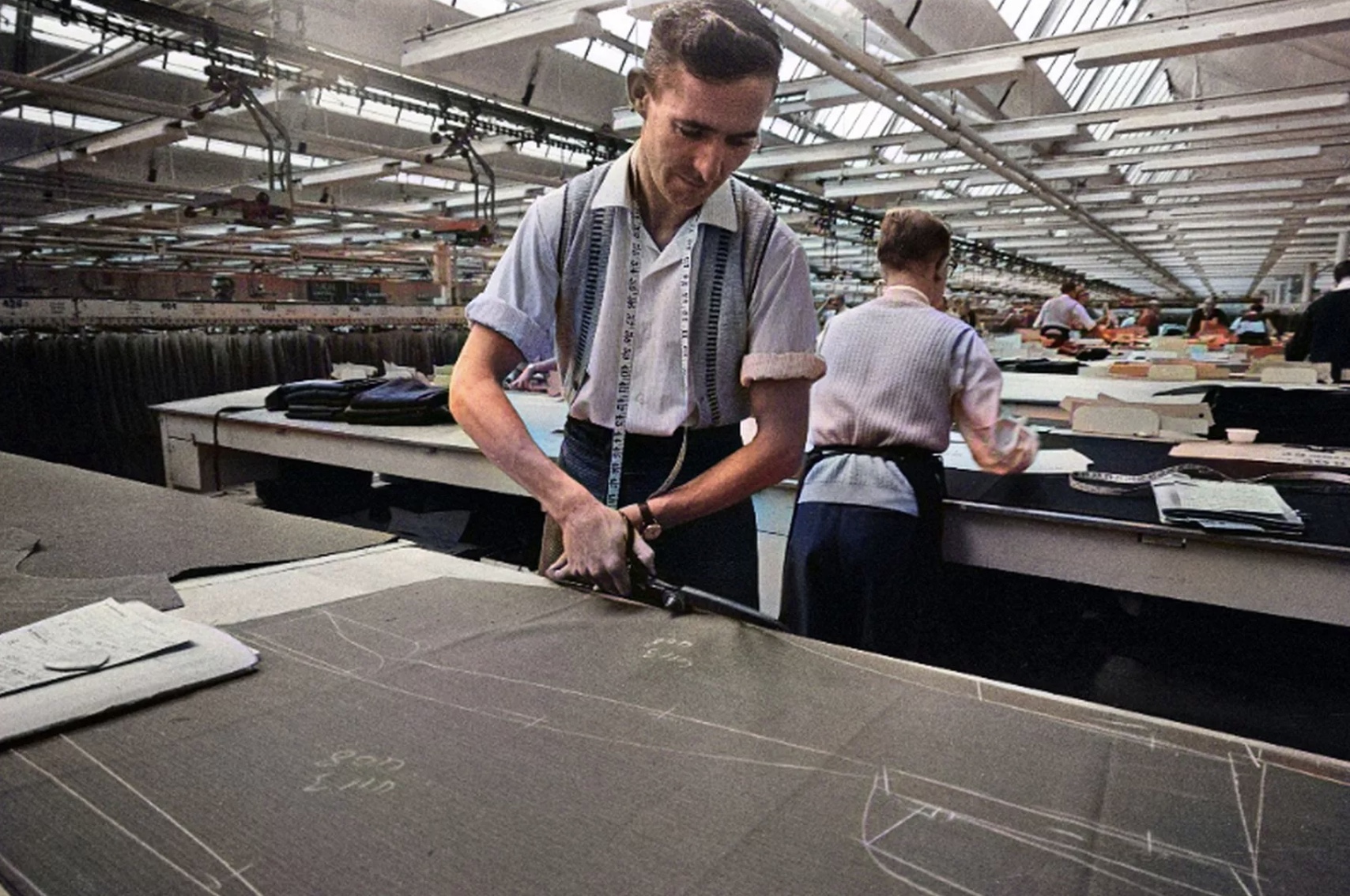 This is how I really got started onto the tailoring path. My earliest tailoring recollections are as a young boy aged about 6 running into the vast Burtons' Hudson Road tailoring factory in Leeds on a Saturday morning with my father. The picture above was taken in the cutting room of Montague Burton's Leeds Hudson Road factory 1967.
About UsSir Montague Burton
At the weekend my father would sometimes have to go into work and would often take me with him to the Burtons' factory that was on Hudson Road in Leeds. But not only the Leeds factory, he would also have to go the other Burton's factories which were located at Doncaster, Goole and Guisborough that he was also responsible for overseeing. But, it's the Leeds factory that has always stayed within my memory, purely down to its sheer size, tailoring on an immense scale that will never, ever be seen again. To this day, almost fifty years later, I can still see the rows upon rows of men and women sat hand sewing the suits Burtons' made.
I can also remember going with my Mother, Pat, to The Lighthouse Sewing Company which was located in a long, thin Victorian building near Wellington Bridge in Leeds that backed onto the Leeds and Liverpool canal. Walking up the winding staircase of the tower to get to the sewing room. The building, and the tower still stand to this day, but are long removed from any sewing company. I can't exactly remember when my mother left The Lighthouse Clothing Company and joined Burtons', but she also worked in the Leeds and Goole Burtons' factories for many years, eventually running the training wing element of the Burtons' factory in Goole. Every potential new sewing machinist coming to Burtons' had to first pass a sewing machine training course, and my mother eventually rose to become the main trainer for the sewing course. She was an extremely accomplished, well respected and highly competent sewing hand.
My Grandmother and my Nan on my fathers side were both lifelong workers at Montys in Leeds. Both of them were dedicated Burtons' workers for almost 50 years, a length of employment unheard of in today's world. Workers stayed at Burtons' for their entire working lives simply because they were happy, looked after and always well thought of. Tailoring was never too far away from my parents and grandparents conversations, so tailoring is most certainly in my blood.
Early in the year of 1981 my father was approached by two former Burton's employees that he knew, Mr Eddie Topping and Mrs Janet Howard. Eddie was the factory manager of the Burtons' factory at Doncaster and Janet was the trouser room manageress at Doncaster. It was no secret that this factory, along with several other of Burton's factories were due to be closed. The company was just too big and hadn't really adjusted to the way people were starting to dress. Redundancy came for Eddie and Janet, but my father at this point still had employment with Burtons' overseeing the Goole and Guisborough factories.
Eddie and Janet had long spoken about setting up their own tailoring factory in Doncaster but they realised that they lacked a crucial link, a sewing machine mechanic. So, they asked if my father would be interested in joining them, all three as equal partners. My Father always said that he took a punt which turned out to be one of the best things he ever did. My mother had herself very recently been made redundant from Burtons', so using mums £5,000 redundancy money, my father accepted the partnership offer. The new company, Topping Howard, had already been registered before my father joined and dad wasn't that bothered about his name on the outside board, in his own words "I don't care if my name is in lights on Broadway, I know I own one-third of this factory" and he always viewed himself as "Just a lad from a council estate in Leeds" I ended up at my dad's new work place during the school holidays and on some weekends. But, being the typical mardy teenager that I was, it was the last place on earth that I wanted to be really.
About UsMenial Tasks
I had always, always wanted to join The Army, I was army barmy from around three years old, becoming an Army Cadet just before I was 13 years old. I was absolutely set upon becoming a gunsmith and I was always intending to join the Royal Army Ordnance Corps as an armourer as a start onto the gunsmithing path. Ironically this had been my fathers regiment during his two years national service 1958 to 1960.
After leaving school in 1984, my very first job was through the newly created Youth Training Scheme, and my first request was for a placement at a traditional gunsmiths not far from Goole near Carlton, but I'd just been pipped at the post for the single placement being offered there. My second choice was for Glaydons bike and gun shop in Goole. I was accepted, and very happy. I knew my way around a bicycle, but I wasn't really interested in the bicycle side, I was interested in the firearm side. But it's amazing how quickly life's plans can change on a pin head, the owner of the shop, Don Glaydon (uncle to 2 good friends of mine from school) went into Hull Royal Infirmary for a routine heart bypass and never came out, sadly dying on the operating table. I was out of work, and somewhat pressured by my father into working at his factory. I did what every 16 year old is going to do … I accepted, and off I tootled.
On my first day working at my fathers factory, I very quickly realised that I truly was lower than a snakes torso in the very weird pecking order that existed within those four walls. It was strange, different and scary, and I definitely started at the bottom with the usual menial factory tasks. Emptying bins, carting boxes here and there, humping huge bales of cloth around the factory, cleaning trolley wheels from tangled cotton, and in general like most first jobs, being a very cheap and somewhat convenient dogs body. But for the most part, I was actually very happy and content, I liked the hub hub of the factory, the constant sound of the sewing machines operating at full speed, the hiss of the steam that came from the pressing lines and the never ending chatter of the girls. But I was still messing around contemplating various other occupations, until I finally decided to give this tailoring lark a proper go. So, I was given the option of entering either the trouser room, the jacket room, the cutting room or to become a pattern designer.
Apart from my father and his mechanic, Brian Overton, the sewing rooms had only women; and there was some old school, hard-core women, all of which came from the Burton's Doncaster factory, and in truth actually terrified me. The pattern designer element did not float my boat either, it was upstairs, very isolated from the hustle and bustle of the shop floor and was as quiet as a cathedral as the two designers drafted and cut out endless hard card patterns completely by hand … no CAD here folks !
The cutting room was male dominated, and all of the employees were former Burton's cutters, and boy had these fellas some stories to tell. It was still a time that the 'cutter was still King' – it was the top job in the factory, numero uno so I decided the cutting room would be my choice. There was no messing around, I was literally thrown straight in. I began learning about the preparation of cloths, pocketing, melton under collars, linings, canvas, fusible and generally laying out materials and undertaking other smaller menial jobs that I was asked to do. There wasn't an option to say "no" to anything that I was asked to do.
The cutting room foreman, Mr John Watson, started to train me how to use shears correctly, slapping the back of my thumb with a dog-leg yard-stick from across the table every-time I lifted my thumb from the shears thumb rest, saying "Thumb down, not up!" Mr Watson was the cutting room manager – he really was a lovely man, a great cutter and very good at his job, I have never forgot 'thumb down' and it pains me to this day to see a cutter using his shears with his thumb stuck up in the air. I deeply regret my adolescence arrogance towards John, and not picking his brains much more than I did. If I could have my time again with John I would be far more gracious.
About UsExtra Tuition
Right place, right time, it had all happened very quickly for the three relatively new business partners. It was sometime around the summer of 1986 and the factory was booming, absolutely stuffed to the rafters with more work than it could handle. The factory had also grown very quickly from a starting size of 50 hand picked workers in the first year, to 100 workers in the third year, all initially housed within a 5,000 sq ft factory that would eventually peak at 220 workers spread over an open plan 25,000 sq ft work floor. But, like most things in life it wasn't all plain sailing, Eddie had cancer and he would barely live to see the year out, It all happened so fast, in a blink. Buying the unit either side, knocking the adjoining walls out, expanding the factory, the never ending overtime, Eddie's death. It was a whirlwind and it seemed like it would never end.
But one constant came for me that same year, and is still in my life today, my mate Darren Barker. Darren had just been employed in the cutting room as a trainee and was a similar age to myself, and we clicked straight away. To facilitate our training quicker, it was decided that we'd both stay behind for an extra 3-4 hours per week for extra tuition in the cutting room from Mr Watson. We were young, full of it and stupid, it was however the perfect excuse for two young know it all's to go to the pub after work for a proper skin full. I didn't own a car, I couldn't afford one, for me it was always the bicycle to and from work for many years. Regardless of the weather, when we'd finished, I would stick Darren on the front of my bike handlebars perched precariously and proceed to cycle us both the 4 miles from work into Doncaster town centre. Landing in whatever pub was first on 'the circuit' I'd then ask the bar staff to stick the front wheel of my beloved push bike 'trigger' behind the bar for safe keeping. I'd have a pint of bitter with a Woods 100 rum chaser, and Darren on a pint of Lager with the rum chaser … but the bike was safe, after all, who'd pinch a bike with only one wheel. We were very well-known in the many Doncaster pubs we used to frequent, particularly around the Doncaster market place.
The cycle home was always interesting to say the least, two of us on one bike drunk as skunks, laughing our heads off trying to navigating the busy North Road in the dark without lights. I tell you this, we used to have a great time after work and I wouldn't change a thing.
About UsA King Cutter
After a long time training and learning, I was eventually let loose on cutting the various trimmings required for trousers and jackets, trimmings are the small ancillary parts required to make the garments.
My next step was to mark in the garments for the other cutters prior to them cutting them out. I had been with the company for a few years by this time and my wage had increased from £30 per week to £1.67 per hour. As a comparison my friends working in the construction trades earned more bonuses on top of their salaries than my entire take home month's wage.
I was taught comprehensively on how patterns were made, how these patterns went together and how to alter stock patterns to make them fit irregular shaped figures.
The first job I marked in was a nice super-100s grey 2-piece for myself (the first job for all apprentice cutters in our firm was to make their own garment). I progressed to cutting with the 'Mr's' where I stayed for a further three years, cutting my teeth with professionals who varied in age from forty to nearly seventy years.
All the cutters at the company were former employees of Montague Burton and they all were very skilled cutters, in fact they were as good as I have seen anywhere and BETTER than most that I have been fortunate enough to seen working on Savile Row. That's a fairly bold statement, and it might sound like I'm bitter, I'm not. It's a fact. The Burtons' factory in Leeds employed 700, SEVEN HUNDRED cutters alone ! Experience can't be bought, it's learnt, and the truth is that the volume of garments that the cutting room at Burtons' got through, and the experience garnered from such large volumes is incomparable. The cutters were the best I've ever seen, anywhere.
One particular cutter that I was paired with for many years, Raymond George Alexander Gaukrodger, was able to cut a marked pair of trousers out without even closing the blades of his shears. His shears were razor-sharp and he would push them along the chalk lines extremely fast. Was he any good … Well you could place the trousers he had cut out on top of the pattern they were marked off and they would fit EXACTLY every time, boy was he good.
I loved the cutting room and the company. There were very few days that I didn't laugh so much my stomach hurt while I listened to the old tailoring stories from the other cutters, and often being the butt of their jokes. I miss those days, they were the best time in my working life. I was part of a team and it created true friendships that still last. I raise a glass to my fellow cutting room colleagues that showed me so much but have now moved to the great cutting room in the sky. Sid Trott, John Girling, Howard Broadhurst and Dave Appleyard.
About UsThe Art of Pressing
The factory was CMT (cut make and trim) so the range of different styles we made was immense. We didn't actually make that many garments under our own label, we were primarily here for others that required a manufacturing facility. There was always what we'd consider the normal production run of suits, bread and butter stuff, single breasted, straight pockets etc, but as a specialist factory we also catered for everything from shooting garments with bellows patch pockets and 'action' pleats in the back, through to high end ridiculously styled designer garments. I was fortunate to be able to see, and learn a real skill that few possess today, how to press jackets off by hand. Even though the factory was full of what was at the time quite high end semi automated pressing equipment, Betty Turnbull and Janice Butler, along with other names that sadly I can't remember, would still be pressing by hand.
Pressing is an art, a touch that can't be explained, you feel the cloths requirements and they are all different. To say a good presser can make an average garment look outstanding is an understatement.
About UsFriday Fun
The normal factory working week without overtime was 7.30am – 5.30pm. Monday to Thursday. I was approached by a friend of my father's who asked if I'd be interested to cut garments out for him. So, every Friday I used to go and cut out for Brian. I didn't really have much choice, I had to, my Father didn't pay high wages. Brian had his own business, it was a right old upside down hole, stuff all over the place. Brian's business primarily made country-wear, country-wear, for shooting and game keepers. I really enjoyed cutting out shooting suits and breeks in the most amazing colours and patterns in the John G Hardy tweed he used.
Every style of country jacket was made, Norfolk jackets, breeks, shooting suits with every kind of pocket, back and style variation you can't imagine and then some more, waistcoats, overcoats for shooting, it was unbelievable the amount of styles. It really opened my eyes and garnered me a real skill for pattern matching plaid cloth.
I started at Brian's at 8am till 5pm every Friday, and I used to cut all the garments that were needed to keep the girls that Brian employed going for the coming week. There was some stock clothing that Brian sold in his own busy shop, some made to measure clothing and some bespoke clothing, along with ALL the trim for the jobs that needed to be cut. Brian wasn't a tailor, he'd been a shop manager for Montague Burton's before striking out alone and knew about measuring, but nothing about cutting or making. Even though I'd know Brian since I was a little boy, deep down I never really liked him, I never had. He was a know it all, a busy body, a jumped up little Hitler and very parsimonious to boot. He was one of life's meddlers, forever coming into the cutting room (sometimes several times a day) giving me his opinion about my cutting frequently saying "Can't you get that lay tighter"? (which uses less cloth) or looking through the rubbish bin for scraps of cloth making sure I wasn't using or wasting too much cloth. But it was a means to an end.
I stood this for almost a year from Brian until one day after taking yet more advice from Brian on how to cut, I put my shears down and told him to do the job himself because he obviously knows more than anyone that ever existed about cutting. I also asked him for a pay rise or it was "Adios Amigos" I got my pay rise, he stopped meddling and we got on fine after that, Brian never gave me advice about something he knew nothing about again. I wasn't sad when I finally didn't need to be there.
About UsGoing It Alone
The decision to wind the factory up came in 1996. My father and Janet, as they did every year, went down to London to see the buyers and discuss the coming years order book. On the horizon, the growing number of foreign factories undercutting UK prices was already making the margins very tight. My father told me they were offered work that would fill the coming year, but the garments would have to be made at the previous years prices. Dad and Janet asked if they could have a chat together, which they did, and they both agreed that they'd had a good run, done well and didn't need to take the work. It was a very sad day but totally correct from a financial and personal stand point for dad and Janet. Janet's older sister (who had been living in Australia for years) had been missing for a few weeks, and had subsequently been found dead in her car after a crash in the outback, Janet would have to go to Australia to make the funeral arrangements and could be gone for months. The building was owned outright by the company, along with all the plant and machinery in it and this was a considerable amount. I stayed with my father's company right up to the point until my father and Janet sold up. My last job was to help dismantle the factory and strip it out. It was like watching locust.
I, along with everyone else, was made redundant. The factory plant and machinery were sold as one lot, and the buildings sold separately. The machinery went straight to Russia and a new factory was established, my father was given the opportunity to go with the plant to install and run it, he declined
The company still had over 60% of the original people who had been there from the first day, not bad considering you always lose staff to marriage and pregnancy within the trade. I was 29 years old and I had worked there for fourteen happy years. We had a farewell party, but it was sad.
It was 1996 and within two weeks of being made redundant, I had started in business working for myself from home. During this period I was mainly making coats for other well established tailors as an out worker, and boy oh boy was I in at the sharp end. Long gone was a steady wage, I was now dealing with people who often paid you when they wanted to, and more often than not the cheque would then bounce.
During the very unsettled years that followed as a trade maker, I frequently made coats and trousers for numerous very well known tailoring companies up and down the U.K.
I had sewing machines and tailoring trim all over the house, in the living room, at the bottom of the stairs, behind the front door, on the landing and at the bottom of my bed. I'd frequently get out of bed and bang my bare toes on the freezing cold cast iron 90 year-old singer sewing machine that I was using at the time.
But I got by, I had to, I had four children to support. During my out worker period I made for some good tailors and some bad tailors, when I say bad, I mean bad payers and some that couldn't fit a suit for toffee. It drove me mad. However, the one thing I realised very early on was that relying on other people's work was not the answer, and deep down I did not really like it, I hated it. It simply was a means to an end.
In October of 2004, after eight years of trade work I finished my last trade garment and decided to go it alone. I hadn't one stitch of work to replace the trade work I was letting go. It was a worry.
Through the previous years I had made the odd suit for personal clients, and looking back they were a bargain, a fire sale price. Luckily, it turned out that some of my new private clients were extremely successful businessmen, so I took the opportunity to politely mention that I was actively looking for private customers of my own and did they have any friends ? It put the fire back into my stomach and I was absolutely loving my trade again.
About UsMy Philosophy
Quality, quality, quality, do good work. I am true to my roots and my tailoring is the purest form, genuine, authentic bespoke tailoring. I cut and make my clients bespoke garments personally, on site. I am always looking for new customers to grow my business. I envisage a relationship between tailor and customer that will last 40 years and more.
Please get in touch, I'd love to hear from you.