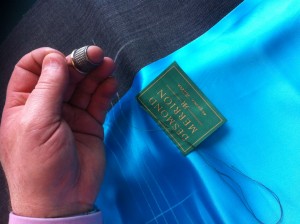 17 May, 2014
Made To Measure Suits
I make the finest made to measure suits and bespoke suits personally in my own workroom in Rawdon just outside Leeds.
What is unique about the way I operate ? Well, firstly I am a bone fide bespoke tailor, I haven't just drifted or migrated into this trade to try to make a few quid off of you, I have come the hard way from the shop floor and here I still am some 31 years later after a very lot of hard graft. I am in this for the long haul and want to make links with clients that appreciate the real craft of bespoke tailoring and want to deal with an artisan tailor, namely me.
I am not going to explain my bespoke suit making process here within this post, as I have already covered that in-depth on my website under 'process of make'. What I am going to briefly explain here is the process of my made to measure suits and how similar the bespoke and made to measure service really are.
Yes of course the construction is massively different, but from the first consultation through to the finished product the two are very similar.
You are getting a real tailored suit and a great product, it's a lot of bang for your buck as they say.
My made to measure suits ( like everything else I make ) are fully cut AND fully made in-house by me, no-one else is involved, it's just little old billy no mates me, well maybe I'm not so little nowadays…….. ( note to self Des, you must keep to the diet ) but it's true I have no mates . . . . .
So, you walk through my workroom door, no appointment needed I have nothing to hide, and we start nattering about your requirements. We look at the cloth bunches I carry and you settle on a cloth and give me a rough idea of your requirements.
The first thing I will say is that you are as flexible with my made to measure suits options as you are with my full bespoke options, because I will still be cutting you your own individual pattern ……yes that's right folks I cut you your own pattern. No pre-made patterns here darling.
Please remember that you are not dealing with someone who is going to send your suit order to some third world country sweat shop or factory, or up the road to Carl Stuart, the tailors trade factory at Ossett near Wakefield. Note to potential clients, if you have used a tailor before and you know or find out that your man is sending your suit to be made elsewhere, then cut your man out and save yourself a few hundred quid and go to Carl Stuart direct, here is the link.
After your pattern is cut I will carefully hand cut out your suit and then prepare your suit for your first fitting, it's not quite as bare as a skeleton baste, but not too far off.
The outer pockets will probably be in, but that's all. Everything else will be just carefully hand basted together.
We will conduct the first fitting at a time that suits you. Any alterations that we deem necessary at this first fitting stage are transferred onto your own pattern.
After this fitting I will strip your suit down and re-cut and shape any parts of your suit to ensure we achieve a precise and very clean fit. I will carefully check all the lengths of everything and start to imbue your own personal style requirements into your suit. I will then prepare your suit for a forward fitting.
So you can see you will get a minimum of two fittings, your own pattern made, your suit cut out by hand and not by a machine, endless style and detail options, hand fitted together and hand sculpted to your figures requirements and the choice of any cloth from any of the cloth bunches that I carry.
Granted, all the bunches are not at the same price point, if you pick a more expensive cloth we adjust the price accordingly.
After your forward fitting the suit will be ready for me to finish, and I can say with confidence that my made to measure suits have more, much more delicate and precise hand finishing than what most places will sell you as full bespoke.
So on top of being hand cut and hand basted, all these areas on your suit will be finished by hand, all the collar sections including the top collar and the under collar, all outer pocket edges flaps and breast welt.
All outer edges of lapels and collar, inside linings around the armhole, back neck, shoulder, side seams and back hem will ALL be delicately finished by hand.
All the buttons will be hand sewn into place. This is my default made to measure suit make.
This is why I keep harping on about coming to me for your tailoring requirements. I will GENUINELY tailor you a suit.