Off The Cuff Made To Measure Trousers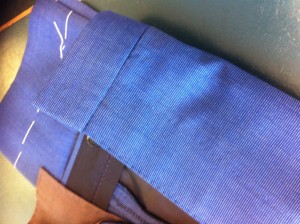 18 May, 2014
Made To Measure Trousers
Can be a sensible option if you don't want to go to the expense of full bespoke. It's an old expression that states, "If you want to do the business, you have to look the business"
A good quality well fitted pair of trousers could be the only difference between you and your competitors that sways that deal into your grasp. Sounds nuts, but who knows !
Made to measure trousers provide an excellent fit and I will still cut you your own trouser pattern and give you at least one fitting before the trousers are finished.
the picture below shows me hand finishing, hand sewing, the side adjusters to a pair of my clients made to measure trousers.
My made to measure trousers are a real quality garment. They are individually cut from your own pattern and expertly tailored to your figure.
the picture on the left shows another pair of made to measure trousers I am making, the side adjusters are basted in place waiting to be hand finished.
Both of these pairs show the adjusters actually on the waistband, sometimes they are placed lower down partly over the seam of the trouser top and the waistband seam.
Both my clients with these trousers when asked preferred their adjusters to be placed on the actual waistband. It's all down to personal taste really. That's one of the advantages of having your trousers made to measure, you get exactly what you want.
The two pictures below show a couple of other areas of my made to measure trousers, the back hip section and the front fly section. I use the best silesia pocketing and waist banding in all my trousers whether that be bespoke or made to measure. For more information drop me an email, des@dmerrion.com or give me a ring on 07871877061 to discuss your tailoring requirements. desmerrion.com