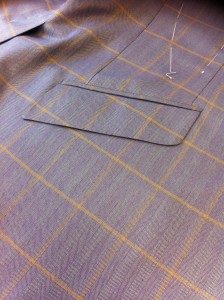 20 Apr, 2014
Ladies Bespoke Tailors
The skill of being a ladies bespoke tailor, even for tailors on the mighty Savile Row, is not as easy as you think. The principles may be the same as tailoring for men but the vast style differences that can be covered make it an extremely rewarding and satisfying element of the ladies bespoke tailors trade that I greatly enjoy.
I like stepping out of my normal comfort zone with lady clients. Making bespoke pieces for female clients allows me to be a lot more creative than when I am working with my male clients. The cut of all my ladies garments is very feminine, but more importantly the fit requirement is at a completely different level to fitting men. The fit is everything with ladies bespoke tailored pieces and lesser tailors will have nightmares trying to fit female clients correctly. Tugging and pulling here and there trying to make it fit. The amount of utter, utter rubbish I have seen passed off as bespoke garments for women from 'pretend' tailors is laughable, I have also seen many garments over the years that have been made by some of the most well known Savile Row houses that are also terribly fit. So price or a well respected tailoring name does not always mean success in the fit department for ladies stepping into the world of bespoke.
The success to ladies tailoring is lots, and lots, and lots of use of the iron to sculpt and mould flat cloth into a perfect 3D shape for the female form I am trying to fit. This sculpting must be combined with masterful cutting with precise seam alignment and lots of shrinking and stretching in the waist regions of the garment with the iron. No production line in the world, or farm it out 'tailoring' operation, give me your money and we don't care if we never see you again type can EVER get a garment to fit like it should …… You need a PROPER tailor like me to achieve that for you !
This picture below shows a lady client of mine wearing a burgundy doeskin coat. It is at the first skeleton baste fitting stage, both the sleeves have been removed because I re-cut and re-shaped the front armhole to give the front a better look. The shoulder pads have also been removed, I shortened the front balance of the coat which is absolute key to the fit of any garment male or female and the under collar melton has also been removed. As a guide to my clients figure, I would describe this ladies figure as typical Marilyn Monroe and she has a bust size of 32F combined with a very small waist. If you look at the picture you can see the coat fits nice even at this early stage. I must add there is no canvas whatsoever running through this coat at present, it is purely the raw cloth as cut, what you are seeing is a skeleton baste in it's most basic form. The fit you see in the picture below has been achieved by me through careful cutting and clever manipulation of the panels with the iron shrinking and stretching to fit the curves and hollows of the figure as I explained earlier.
So if you are in the market for any ladies bespoke tailoring from ladies business suits, ladies trousers, ladies tweed coats to hunting and ladies bespoke riding apparel, I am that rare thing, a fully trained tailor in the art of ladies tailoring and make the finest clothes you can buy. For more information visit my website desmerrion.com