Off The Cuff Desmond Merrion Bespoke Tailor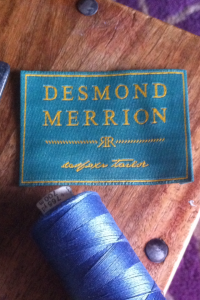 7 Jun, 2014
Desmond Merrion Bespoke Tailor
My old tailoring label simply said Desmond Merrion Bespoke and had a Union Jack in-between the Desmond Merrion and Bespoke.
But, alas all thing must come to an end. "Whoa Dude !" "You haven't changed your label have you !" ….Said in my best Keanu Reeves impression, which is obviously pants. Well darlings yes I have actually ….. !
I have had my old tailoring label for about 16/17 years, and to be honest I liked it, hell I STILL like it ! " So why change it numb nuts ? " I hear you shout.
Well, an old pal of mine that owns Dugdale Bros in Huddersfield, Keith ….. well Mr C as I started calling him some 20 odd years ago and now every man and his dog also does the same, is frequently in my place nosing around at this and that and we always have enjoyed very fruity conversation about the dream boats and the non payers within the trade, but on this particular occasion Mr C turned to me and said "Des, that label just isn't good enough anymore for the quality of the garments you make !"
Well, bugger me I thought ! Where has that come from ! So anyway we have a little chat about my label and I then tell him to go and pester some other poor unfortunate lonely soul as I am busy.
But after he has gone 'the little old grey cells start creaking into action' Bloody hell he's right !
Anyway, let's get on with it, so here it is my new label.