Off The Cuff Tailors In Leeds City Centre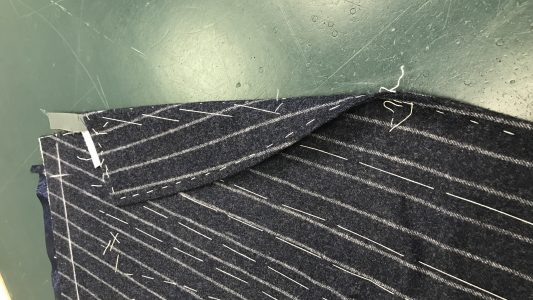 15 Apr, 2018
Tailors In Leeds City Centre
There are many tailors within Leeds City Centre, that can provide you with a suit, but have you ever seen your Leeds City Centre 'tailor' actually cut or make anything ? By definition that's a tailors role, to cut, make and fit his or hers clients garments. If you're simply being sold a suit by someone that doesn't, or hasn't cut, fitted and made hundreds, if not thousands of suits, then that's a salesman. And there's a massive difference between the two. I shall explain my reasoning.
Firstly, the people ( and companies ) that are able to offer world class, genuine, top quality bespoke tailoring is actually very small. There aren't very many of us out there, and most of us either know each other, or know of each other. Genuine bespoke tailors and cutters have worked within the bespoke tailoring trade from a young age, and have served a vigorous and intensive apprenticeship that lasted at least 7-9 years. Only then after successfully completing the apprenticeship do you move on to hone your skills over the next 30 odd years … I've personally over 35 years of bespoke tailoring experience and I don't even consider myself anywhere near a finished product.
The truth is, non, and I mean non of any of the tailors currently in Leeds City Centre have even come close to any of what I've said above. The words top quality, and world class are key here. A part time course, a bit of work experience here just doesn't cut it. I'll spare the mame dropping, but unfortunately most of the 'tailors' in Leeds City Centre are salesmen. They'll measure you and then send your order to be made in a factory either to Carl Stuart at Ossett … incidentally you can go here yourself and save at least 50% of what you're being charged. Or, it'll be sent abroad.
This is actually really simple. Do you want a top quality product from a genuine bespoke tailor ? Or, do you want to be sold a factory made suit that's taken a couple of hours to make that's more or less like everyone else's ? You wouldn't simply trust a priceless work of art, an extension on your home or your car to 'Big Dave around the corner' Of course you wouldn't, bespoke tailoring is the exact same principle.
I'm a fully trained genuine bespoke tailor, I've nothing to hide, and my philosophy reflects this. I operate an open door policy for every one of my clients with complete transparency about how your suit will be made, and where.