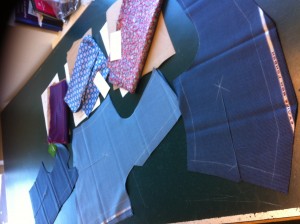 14 Aug, 2014
Bespoke waistcoats
I have recently made three bespoke waistcoats for an upcoming wedding for the proud groom and his two young sons.
The cloth they chose for the bespoke waistcoats was from the Holland and Sherry Crispaire bunch. This is a bunch that I really like. The cloth really is superb quality, as are all H+S cloths, it cuts great, makes up lovely as it works well under the iron. Yes, it's slightly more expensive but definitely worth it in my opinion.
The first picture below shows the three bespoke waistcoats cut out and laid on my cutting/work table. The various inlays that I have allowed for are quite easy to see.
All three bespoke waistcoats were cut a different style. The two boys also were lucky enough to be able to choose their own waistcoat style, and had a free choice of which lining they would like for the back and inside of their waistcoat ( with a little friendly guidance from mum )
The picture above shows the bespoke waistcoats from another angle. You can see the style variations between the three, and the individual lining choices. I also made four hand-made bespoke ties in the pink flowery coloured lining to match for them. Yes, I can and will make bespoke ties if you want one !