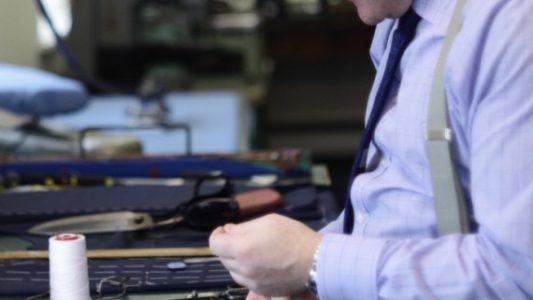 10 Nov, 2014
Tailors In Leeds
Do you want a superbly made, expertly fitted suit that has been made by a tailor with 31 years experience of actually making suits ?
Or do you want to buy a suit from a salesman pretending to be a tailor that occupies smart premises in the centre of town that will simply send your order to a factory ?
To be honest these are the only two questions you have to ask yourself. My credentials ? third generation bespoke tailor with 31 years experience, former Savile Row coat maker. Or you can buy into the location, hype and bullshit of a salesman pretending to be a tailor.
If your answer is the former, then here's a picture of yours truly working on a clients suit in my Leeds workroom beavering away It could be your coat that I am expertly hand crafting to perfection next. So if you are after a REAL tailors in Leeds then drop me an email I would love to hear from you. des@dmerrion.com
Read How Honest Is Your Tailor? Before you part with a single penny it will equip you with the knowledge to see what you are actually getting for your money.