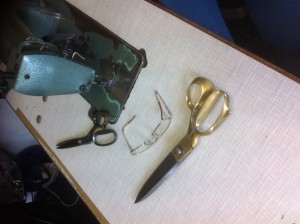 8 Jun, 2014
Afghanistan Souvenir
I can't exactly remember what year my oldest son Sean actually gave me these tailors shears, but all I can say is that they have travelled a long way to settle in my workroom in Leeds, West Yorkshire.
You see, my oldest son Sean served in The 3rd Battalion Parachute Regiment as a regular soldier for 6 years and during that time did two very active tours of Afghanistan, one of which unfortunately saw his best friend Lewis Hendry killed in action.
So from a very sad episode in Afghanistan came these tailors shears. Sean was out on patrol with his friends on another occasion when in his words "They kicked this door in to search a building, and low and behold it's a bleedin' tailors workshop !" Anyway, Sean scouts around and fancies bringing back all the tailoring clobber that's in this place for his poor old man tailor back in blighty but realises obviously he can't.
So he picks up these shears and stuffs them in his kit bag and well, here they are on my sewing machine ready to used by their new owner, me. I often wonder what stories they could tell.